| | |
| --- | --- |
| Journal title |  Journal of Intelligent Computing and Health Informatics  |
| Initials |  J Int Com & He Inf. |
| Abbreviation |  JICHI |
| Frequency | 2 issues per year (March, September) |
| DOI | prefix - 10.26714 by  |
| Print ISSN | 2715-6923 |
| Online ISSN | 2721-9186 |
| Editor-in-chief | Ahmad Ilham |
| Publisher | Department of Informatics, Faculty of Engineering, Universitas Muhammadiyah Semarang |
| Citation Analysis | Google | Scopus | Web of Science |
Journal of Intelligent Computing & Health Informatics (JICHI) is a scientific review journal publishing. The JICHI journal focus is on exchanging information relating to intelligent computing and health informatics applied in industry, hospitals, government, and universities. All articles should include a validation of the idea presented, e.g. through case studies, experiments, or systematic comparisons with other approaches already in practice. Two types of papers are accepted: (1) A short paper that discusses a single contribution to a specific new trend or a new idea, and; (2) A long paper that provides a survey of a specific research trend using a systematic literature review (SLR) method, as well as a traditional review method.
Topics of interest include, but are not limited to: Intelligent Computing and Health Informatics. Please go to Focus and Scope to more detail.
Finally, accepted papers will be freely accessed in this website and the following abstracting & indexing databases:
J-Gate Database (in progress)
The journal has been listed in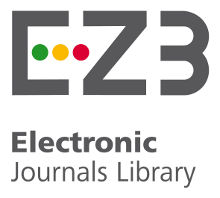 SHERPA/RoMEO policy (in progress)
OAI Address
Journal of Intelligent Computing and Health Informatics has OAI address : https://jurnal.unimus.ac.id/index.php/ICHI/oai
Before submission, you have to make sure that your paper is prepared using the JICHI paper TEMPLATE, has been carefully proofread and polished, and conformed to the author guidelines.   
Already have a Username/Password for International Journal of Advances in Intelligent Informatics? GO TO LOGIN. Need a Username/Password? GO TO REGISTRATION
For detail information, you can contact jichi.informatika@unimus.ac.id.
Announcements
INVITATION - Call For Reviewers

Want to join of the Journal of Intelligent Computing and Health Informatics (JICHI) Review Board? The journal is always seeking conscientious reviewers and extends an invitation to researchers to join the Review Board of JICHI.

Posted: 2020-06-12
More...
Vol 1, No 2 (2020)
This issue has been available online since 30th September 2020  for the regular issue of September 2020. All articles in this issue (5 original research articles) were authored/co-authored by 12 authors from Indonesia.
Table of Contents
Articles
| | | |
| --- | --- | --- |
| | Rosyid Ridlo Al Hakim, Erfan Rusdi, Muhammad Akbar Setiawan | 26-38 |
| | | |
| --- | --- | --- |
| | Sumanto Sumanto, Karlena Indriani, Lita Sari Marita, Ade Christian | 39-44 |
| | | |
| --- | --- | --- |
| | Dina Fristantiningtyas Wiliyani Hapsari, Laelatul Khikmah | 53-56 |